Classrooms
Classrooms at Sukova 2
ILC International House is located right in the centre of Brno at Sukova 2, only 50 metres from the Centrum department store on Malinovského náměstí.
The classrooms and offices are on the first and second floors of the building, and this is where we teach our daily-study intensive English courses, general English courses and Young Learner courses for children and teenagers.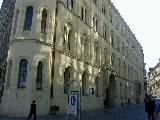 Classrooms at Jánská 22
We also have rooms at the School for Business located at Jánská 22, 80 metres from our main site.