Shopping
For food and drink, you should have no problem finding a grocery store close to your apartment. Be ready to rent a shopping cart with a 5 or 10 crown piece, to pay for your plastic bags (usually about 50 halers for the flimsy ones or 9 crowns for the decorated, more sturdy ones that Czechs seem to carry with them everywhere, sort of like a fashion statement) and to pack your own groceries away from the check-out line (most people quickly stuff their goods back in the cart and pack them into their bags - decorated with sunflowers or Easter eggs - by the door).
One general tip for buying groceries in Brno: The number of rohliky (long plain rolls) you buy per visit will demonstrate how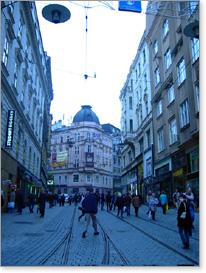 truly Czech you've become! For imported brands and foods you might be used to at home, check out Tesco behind the
train station or in the Shopping Park mall. Watch out, though, as it's always crowded and you'll be lucky to get a cart. It's best - and most fun! - to get your fresh vegetables in Zelný Trh (the Cabbage Market).
For clothing, it's best to buy what you need before you come, as prices here are comparable to those in the USA and the UK. There are a few designer boutiques - two Benettons! - and some mid-price stores like Cottonfield, but the most popular seem to be the secondhand stores. There are scores of them where you can find both that old worn-out terrycloth robe that reminds you of the one your grandmother threw away when you were six and that 1970s Hawaiian-style, short-sleeved, button-down shirt you've been searching for! However, if you look carefully you can occasionally find unbelievably cheap designer clothes!
Between the wide variety of individual stores and the various shopping malls such as Olympia, Carrefour, Vankovka, Futurum, Globus and Shopping Park will surely be able to offer you just about anything you'd need for living here.