The region
Around Brno
Brno makes a good base from which to explore Central Europe. Transport links are generally very good, with connections to romantic destinations such as Krakow, Budapest, Llubjana, Vienna and even Moscow. Many trips can be comfortably done in a day, others in a weekend, more still as a short break.
Day trips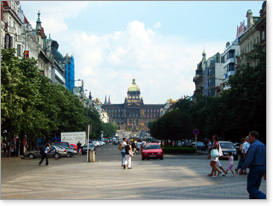 A 21/2 hour bus journey away is Prague. Best visited in the autumn or early spring, it's possible to see at least some of the sights in a day. It's probably more fun to make friends with the locals and stay for a weekend though.

Away from the capital, Moravia itself has some fascinating and beautiful places to visit, most of them thankfully far away from the tourist trail. 1 hour north of Brno is Moravsky kras, a region of beautiful forests, caves and the breathtaking 138m deep Macocha abyss. There's some fine walking country here and an abundance of wildlife.
An ideal summer day out is Kromeriz, which is about an hour east of Brno. It's UNESCO listed landscaped parks and gardens are perfect for a romantic and peaceful stroll. Best of all, it's a long way off the beaten track so you'll usually have the place to yourself.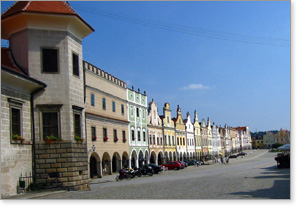 Another UNESCO site within easy reach of Brno is Telč. A well-preserved Renaissance town two hours west of Brno, seeing the magnificent square is worth the journey alone.

From April to October the numerous castles and chateaux open. Pernstejn an hour north of Brno, is a real fairytale castle and probably the most impressive in Moravia. Castles in Boskovice and Buchlovice, and the UNESCO listed chateaux in Lednice and Valtice are also well worth a visit.

Bratislava, two hours south of Brno, can also make a pleasant day trip. The old town in the Slovakian capital is very pretty, well looked after and relatively unspoilt. In the summertime there are few things nicer than sitting outside one of its many pavement cafes watching the world go by. The other capital within easy reach of Brno is Vienna, another two hours away. Exhausting as a day trip, it's probably best visited for the weekend.
Weekend trips & short breaks
The Czech Republic's prettiest town is undoubtedly
Český Krumlov
four hours west of Brno. This UNESCO listed town boasts one of the largest chateaux in the country, some beautiful gardens and a historical core unrivalled anywhere else in the country. Three hours east of Prague is the country's leading spa town, Karlovy Vary. Ideally visited over a long weekend, the town is nowadays popular with Germans of a certain age here to take the warm spring water, and Russians of a certain class here to take the money. Decadent, opulent and expensive.
An overnight train journey east will take you to Krakow, one of the most beautiful cities in central Europe. The breathtaking square is at its best on Sundays at noon, when it fills with the elegantly turned out locals leaving mass.

With a few days to spare, Budapest is certainly viable. A five hour train journey away, the city boasts a vibrant nightlife, a communist theme park, numerous thermal baths catering to all tastes and the not-to-be-missed utterly ridiculous "Labyrinth".
For the adventurous
The Moravian region is blessed with some fine walking country for all levels of fitness. Surrounded by forests and hills, Brno itself offers many opportunities for a weekend stroll. The reservoir to the east of the town is hugely popular, with both ice skaters in the winter and water sports enthusiasts in the summer. There's beach volleyball, plenty of pubs and cafes, a castle and even a nudist beach for the uninhibited.

In the autumn you'll find large numbers of the locals in the forests around Brno foraging for the very tasty wild mushrooms that grow in abundance here, while during winter you'll see them cross-country skiing.

You'll have to go a bit further a field for alpine skiing. Beskydy (above left, centre, right) mountains, four hours east, Jeseniky, five hours north, and the Slovakian Tatry can all be reached in a weekend and usually offer good skiing in the winter and fine hiking in the spring and summer. And if you're lucky, you might even meet a few bears.