Sugar and Spice – a conference for language teachers
Sugar and Spice – a conference for language teachers
will be on Saturday 4th March, starting with registration at 8.00 and finishing around 16.00 when we have refreshments and drinks with all the speakers and participants.

The conference is brought to you by the Teacher Training Centre - the only local centre dedicated to training language teachers - and ILC International House Brno with the support of the British Council, Restaurant Jedna báseň and international publishers.

There are sessions and workshops for teachers of children, teenagers, adults and business classes. We have some sessions for teachers of German and Czech for Foreigners and also training sessions from Macmillan Education and Oxford University Press.
SPEAKERS:
Daniela Clarke (Macmillan Education and ILC Czechoslovakia)
Nikki Fortova (Oxford University Press)
Sandy Millin (International House Bydgoszcz)
Mike Astbury (International House Bydgoszcz)
Nick Kiley (International House Ljubljana)
Hana Tichá (Gymnázium Šternberk)

And from ILC IH Brno there will many of your favourites including:
Charles Du Parc, Dave Cleary, Šárka Cox, Staňka Janíčková (CFF) and Katka Oleksíková (German).

We will also be running the lunchtime ELT Clinic, which gives you the chance to talk directly to our trainers and presenters. More details on how this works will be in the programme.

And once again, we are delighted to be offering lunch in one of Brno's finest restaurants - Jedna báseň - at no extra cost! We will send the menu with a selection form to registered teachers closer the time.

We will be holding the conference at Sukova 2, just two minutes walk from Malinovského náměstí, and Jedna báseň is right downstairs so you don't even have to go outside!

You can download a poster for your staffroom .
UPDATED:
Detailed information including the programme and abstracts can be downloaded here.

SCHEDULE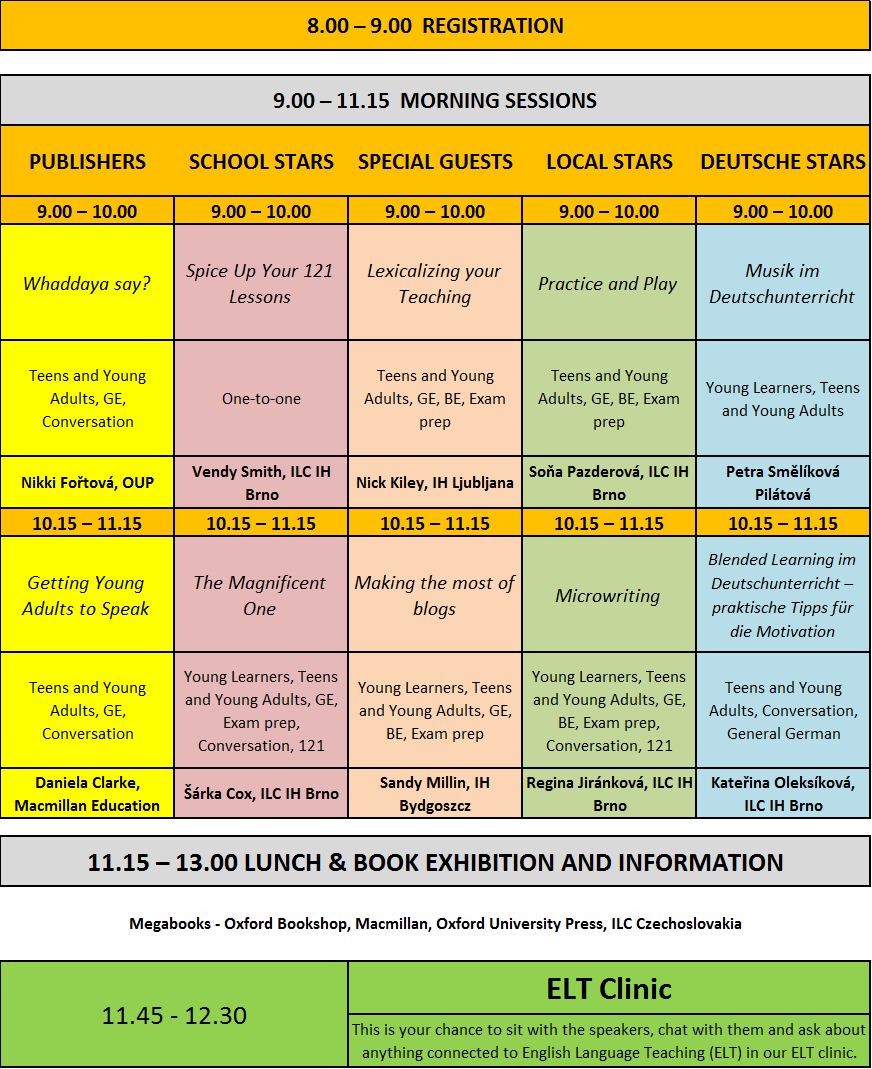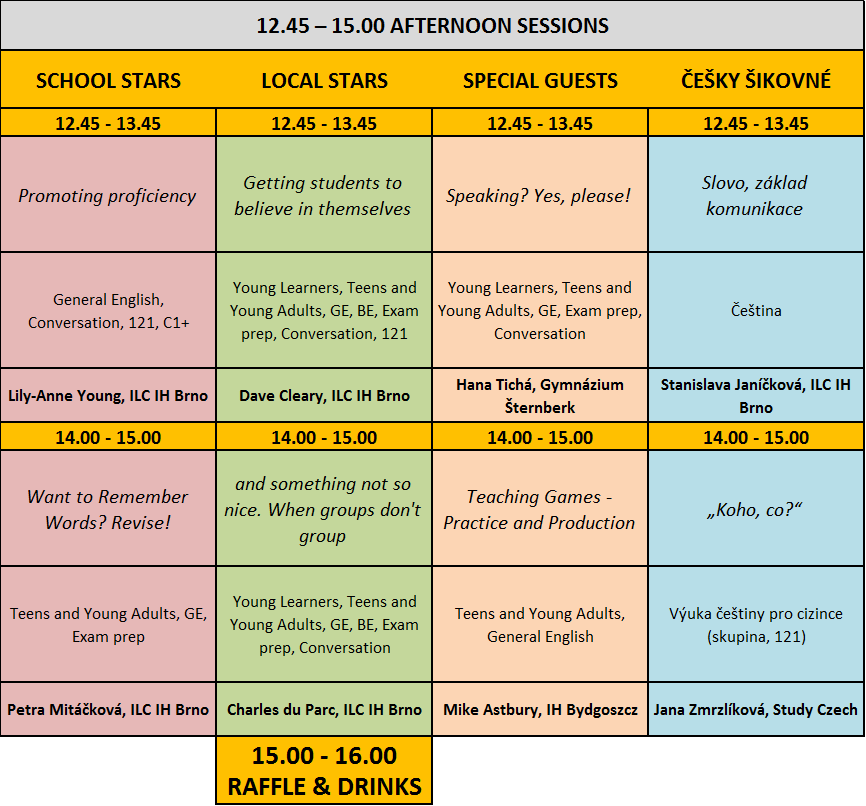 Pricing

Once again, we have kept the fees the same as last year.

Teachers working at ILC IH Brno Associate Schools 270 CZK.
Teachers in the International House network 0 CZK (the number of these spaces is limited).
All other teachers 300 CZK.

German and CFF teachers – 200 CZK incl. lunch.

You can pay in advance, or on the day, and as the conference is accredited by the Ministry of Education we can provide certificates of attendance. What are you waiting for? It's time to Register today!

Capacity is limited to the first 100 teachers.

Conference poster (PDF, 192 kB)